The UNESCO Chair investigates the effectiveness of adaptive learning concepts and their didactic details. In addition, technological implementation possibilities as well as conditions for integration into various study regulations and curricula are analysed.
The research focuses on two main areas: The first is the development of personalized and adaptive designs and instructional models to promote subject-specific knowledge/skills. The second is about the development of innovative measuring methods for learning relevant emotions in order to integrate them as sensors into adaptive learning systems and to intervene based on the data they provide.
In the first four years, the activities of the chair concentrate on partnerships in Europe and Africa. Especially the cultural and economic differences on the organizational as well as on the regional level serve as research catalysts. In this respect, an international competence pool in the field of technology-based, personalised and adaptive learning is being established and further developed at the Chair.
Technology-based, personalized and adaptive learning
In contrast to the one-size-fits-all approach, personalized and adaptive learning focuses on the individuality of the learner. Individual factors that can serve as a basis for adaptation are, for example, stable or situational characteristics of the learners (gender, culture, learning strategies, knowledge, emotions, attention, etc.). On the basis of measurements of these characteristics by a sensor, an adapted presentation, for example, takes place under the condition of certain threshold values:
the learning content (e.g. topic, difficulty, detail, task type),
of references (e.g. suggestions for reflection, learning tips) and
the form of presentation (e.g. type of media, colours, integration of tools).
The sensor, which records the individual learning characteristics before and during the learning process, can also contain objective data in the form of (knowledge) tests, facial muscle recognition, eye movements, heart rate, etc. in addition to self-disclosure. Basically, the adaptation of the components contained in the learning system can be controlled by two different mechanisms (set of rules):
rule-based (based on strict rules/heuristics specified by the instructor),
self-learning (optimizes the algorithm automatically on the basis of the acquired data, see Machine Learning).
Through adaptation, the learning process is designed as optimally as possible for the individual needs of each learner. The various elements and the fundamental process behind them can be represented schematically as follows.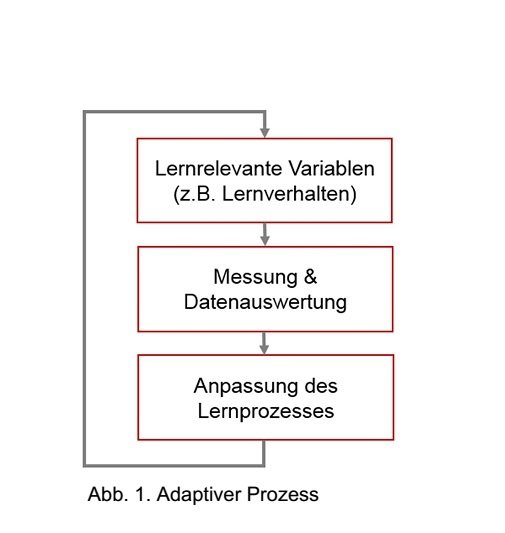 Chair programme
An exchange programme for researchers has been launched to promote international networking and research competence. It involves short stays at partner institutions by FFHS employees to identify situation-specific research requirements, half-year research stays by exchange researchers at the FFHS to conduct lab experiments and one-and-a-half year field studies at partner institutions to put experimental findings to the test and create practical applications.
The research results are used to develop international further education offers. All activities are documented in the form of websites, publications, workshops and guidelines to make them available to the public as an open source. As such, the Chair will helps to establish and further develop awareness and competence in personalised and adaptive learning systems, at both a national and international level.
UNESCO Chair's activities
The UNESCO Chair activities focus on international networking, fostering multidisciplinary research, and developing educational offers in collaboration with partners from Europe and Africa.

Research
The partners participate in various exchange programs for researchers.
Research grants for researchers
In the framework of the partnership between FFHS and The North-West University of South Africa (NWU), an exchange program for researchers has been established to promote international networking and research competence. In 2018, this includes three FFHS grants for NWU researchers for short research stays (4 months). The aim is to identify situation-specific research requirements, support the execution of laboratory experiments and prepare a field test at the NWU.
Research Exchange
In January-February 2020, Prof. Dr. Cengiz Acartürk form the Middle East Technical University of Ankara stays on a university campus in Brig for giving various lectures and webinars on the role of emotions in learning and teaching as well as for organizing workshops on eye tracking methods. This research exchange is part of the movetia mobility program.
Delphi Studies
We conduct Delphi studies at different organisations and help them to develop effective strategies in the field of technology-based, personalized and adaptive learning.

Teaching and Training
For the purposes of teaching and knowledge transfer, we organize short stays (2-14 days) at our partner universities abroad giving lectures and conducting workshops around the topic of technology-based, personalized and adaptive learning. Together with the network partners, we develop and implement various educations offers (e.g., MOOCs) at the international level.
UNESCO Chairs
Within the UNITWIN programme (University Twinning and Networking) of UNESCO, so-called UNESCO chairs have been recognised since 1992. The aim of these chairs is to promote international and inter-university cooperation and to establish networks for the exchange of knowledge and cooperation in disciplines close to UNESCO - such as education, natural and social sciences and communication.
The activities in the chairs are intended to contribute to achieving the United Nations' Sustainable Development Goals 2013 (Sustainable Development Goals 2030). To this end, the education sector is specifically aiming to establish a high quality of education and a fair educational landscape that includes all people worldwide. This also includes ensuring lifelong learning. In order to promote this, the inclusion of modern ICT in educational institutions and distance learning can be used, for example. An important instrument of the UNITWIN programme are the UNESCO chairs, which are responsible for carrying out corresponding research activities and knowledge transfer activities. They are regarded as think tanks and bridge builders between academia, civil society, local communities, research and politics. The programme aims above all to promote capacity building at universities and research institutions through knowledge exchange and international solidarity in a North-South and/or South-South direction, thus supporting excellence and innovation in all regions of the world.
Further information:
International: http://en.unesco.org/unitwin-unesco-chairs-programme
Switzerland: http://www.unesco.ch/mit-wem/lehrstuehle
Research Grants
FFHS UNESCO Chair exchange program for talented researchers aims at promoting international networking and research competence in the area of personalised and adaptive distance education. After the successful exchange of four researchers from the North-West University of South Africa and a Professor of the Middle East technical University in Ankara in 2018-2019, a new grant has been awarded this year to one researcher from the Open University of Tanzania (OUT) for conducting a Delphi study on technology-based learning and potentials of adaptive learning at OUT. The grant provides financial support for a short stay in the Technology-Based Labs of the Swiss Distance University of Applied Sciences in Brig and one-year research collaboration from Tanzania.
Research Agreements
Research agreement with the Leibniz-Institut für Wissensmedien (IWM) and Welten Institute of the Open University of the Netherlands
Research activities are conducted in the framework of the COST Action E-READ. Joint Research Agreement, 07.11.2017 (PDF)
Memorandum of Unterstanding with the North-West University (NWU) of South Africa
Memorandum of unterstanding, 14.02.2019 (PDF)