FFHS receives international «Higher Ed XR Innovation Grant»
As one of only eight higher education institutions from all over the world, the FFHS together with the University of Johannesburg (UJ) receives a grant for a joint innovation project. In this project, a virtual reality prototype will be created to provide pre-service teachers with hands-on teaching experiences. The development of a virtual classroom aims to facilitate access to this future technology for marginalized groups in South Africa.
Among the winners of a «Higher Ed XR Innovation Grant» from the funding programs «Unity Social Impact» and «Meta Immersive Learning» is the FFHS together with the University of Johannesburg (UJ). The financial support will enable the two universities to develop a VR prototype for future teachers. For 20 years now, the FFHS with its Institute for Distance and E-Learning Research (IFeL) has already been conducting research in the field of technology-based learning. With the affiliated UNESCO Chair for Personalized and Adaptive Distance Learning, the institute has access to a national and international network and develops innovative learning environments in collaboration with African universities, among others.
The VR application to be developed is intended to support so-called «microteaching». This refers to the practice of short teaching sequences, which occupies a central place in pedagogical training. The virtual environment enables future teachers to gain practical teaching experience. In addition, the teachers can use so-called «learning analytics» to reflect on their teaching behavior in a data-supported manner and thus prepare themselves optimally for their lessons. In the project, the researchers focus on natural science topics such as physics, chemistry and biology. In particular, the project aims to equip teachers from marginalized communities who have had little or no access to learning technologies with 21st century digital skills.
Demand for extended reality (XR) talent is rapidly increasing, opening up myriad new opportunities for a next generation of «metaverse creators». To adequately prepare tomorrow's workforce, it is important that educational professionals and schools pass on the necessary skills to their students today. To that end, Unity Social Impact and Meta Immersive Learning have partnered to increase access to AR/VR hardware, high-quality educational content, and other resources to help educators create or enhance innovative XR programs. The Higher Ed XR Innovation Grant is one of the core components of this partnership, providing a total of more than $1 million in awards to higher education institutions. A team of more than 60 judges has now selected eight winners from 276 entries.
Says Prof. Per Bergamin: «We are very happy with the support: on the one hand, that we can incorporate the knowledge we have gained over the last few years into a VR environment, and on the other hand - which seems even more important to me - that teaching experiences and systematic reflection can be made possible especially for those teachers who have not had this opportunity before.»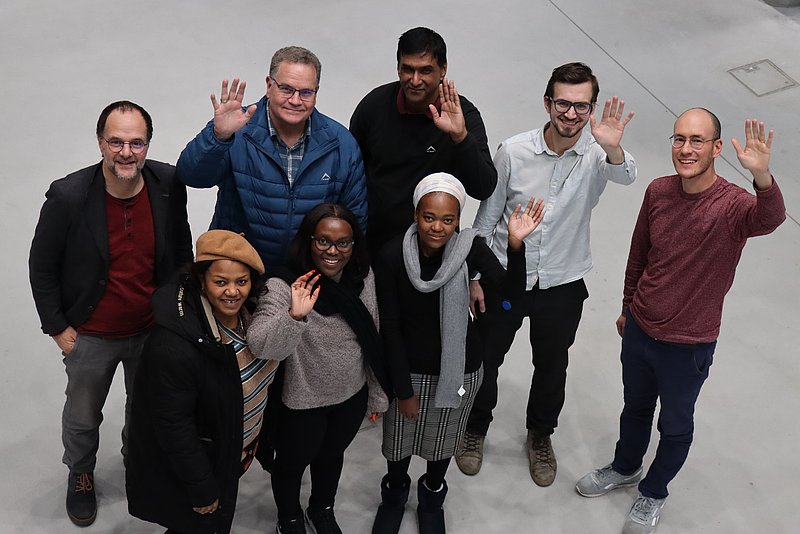 Back row from left to right:
Prof. Per Bergamin (FFHS), Prof. Christo Van Der Westhuizen (UJ),
Prof. Umesh Ramnarain (UJ), Dr. Martin Hlosta und Dr. Ivan Moser (FFHS)

Front row from left to right
Ms. Mafor Penn, Ms. Noluthando Mdlalose und Ms. Koketso Pil (UJ)